Mine is a tale of two weddings.
Maybe I love to do weddings so much because I have had a pair of beautiful fairy-tale ceremonies and happy marriages myself.
My Bonnie bride and I were married in 2005 on the beach with the peacefully buoyant waves of the Pacific splashing behind us and the hills of the Northern California coast beaming in front of us.
The sun was shining brilliantly. "You couldn't order weather like this," a guest said to me. "Oh, but I did," I replied, so sure that the Universe would provide such a day that I had refused to have a rainy-day backup plan.
Just for the fun of asking, I asked a government agency about the legality of officiating at my own wedding. The women in the office laughed over the question, but admitted they didn't know the answer and would check. The decision was that I couldn't ask myself if I would take this woman to be my wife.
Instead, a fellow minister and friend did the honors, and I, in a green Buddhist shirt, took Bonnie, naturally resplendent in a simple blouse and skirt of sand tones, to be my wife.
Friends and family, sitting and standing on a flowing fabric defining our area of matrimonial paradise, witnessed. It was a beach wedding. My daughter Alexandra read a poem she had written, Bonnie's daughter Jennie did a reading, her son Rich played the dobro, and her (now our) grandchildren Lexi and Nick, then 10 and 12, were maid of honor and best man.
During the ceremony, I read an excerpt from an article that Sylvia, my late wife, had written, and Bonnie read a piece that Rick, her late partner, had written. They were present, no doubt about it.
Bonnie and I were in some ways still dazed and so thankful for the miracle of us that had come out of our loss, We had met only a few years before when I was a hospital chaplain and she was with Rick during his last days. We're proof that God works in mysterious and wondrous ways.
My first wedding was a long way from the California beach of my second. Sylvia and I were married in the historic Excelsior House hotel in the piney woods of East Texas. We had traveled there on a fall weekend from Fort Worth, with her daughter, a friend, and my mother. It was fall, and Sylvia made a velvety green dress for the occasion and I purchased a gold-tan corduroy suit. A local Baptist minister officiated.
A long and rich marriage of almost thirty years ensued, with family responsibilities and journalism jobs in writing and editing. (I graduated from Texas Christian University with majors in English and journalism in 1971.) After our house in Fort Worth burned to the ground, we moved to the Ozarks in Arkansas and then to Missouri.
From childhood, when I was exposed to Christian traditions of my parents and principal caregiver, my "Aunt Ruthie," and when the only current dream I remember was of Jesus walking down my neighborhood street, I have been interested in religion and spirituality. In college, my unofficial third major was religion.
It was with an empty nest and midlife restlessness that I finally rushed onto the spiritual path. I sampled many churches until arriving at Unity, first at a church and then Unity headquarters as associate editor of books.
Unity's five basic principles, actually derived from both Christian and Eastern religious traditions, still sum up my personal beliefs: There is one power and presence, God the good, the omnipotent; there is a spark of divinity, which can be called the Christ, within each person; our thoughts influence our experiences; prayer is creative thinking that heightens the connection with God-Mind; we are to demonstrate our understanding of Truth in our daily lives.
Echoing the biblical injunction to seek first the kingdom of God, Unity co-founder Charles Fillmore said, "The supreme realization of man is his unity with God.' That statement beautifully captures the goal of any spiritual path.
As another one of my important influences, A Course in Miracles, states, "The journey to God is merely the reawakening of the knowledge of where you are always, and what you are forever."
After years of preaching, studying through Unity's continuing education program, serving as spiritual leader of a church in Arkansas, and writing and editing spiritual publications, I finally decided to become a minister and devote my life more seriously to "God work."
I chose to become an Interfaith minister because, to me, the eternal, essential Truth ("Sanatana Dharma" in Sanskrit) must be in all faiths and religious paths since self-realization or reawakening is a personal matter, not confined to any one religion, or actually any religion.
As fate would and did have it, I met Rabbi Joseph H. Gelberman, a highly respected theologian and teacher who in 1971 founded the New Seminary in New York City, the first Interfaith studies in the world (begun with a Presbyterian minister, a Catholic priest, and a Hindu swami). In 1998 Rabbi Gelberman established the All Faiths Seminary International, in which I later enrolled and was ordained in 2001.
After Sylvia's death, I moved to California and enrolled in the St. Mary's Bay Area Clinical Pastoral Education (CPE) program to become a chaplain. I served as chaplain at Sequoia Hospital in Redwood City and Hospice Caring Project in Santa Cruz.
In addition to officiating at weddings, memorials and other life rituals, my spiritual activities continue with counseling, writing and editing, meditating, and practicing yoga.
Other enthusiasms include visiting with family and friends, traveling (especially in India), reading, watching movies, and playing proud papa publicist for my daughter's two books of poetry, Mortal Geography and The Wise and Foolish Builders, and for her novel, The Principles Behind Flotation.
Participating in weddings is a particularly joyous activity, especially so for being able to get to know people at such a loving time in their own life journeys.
Life is good!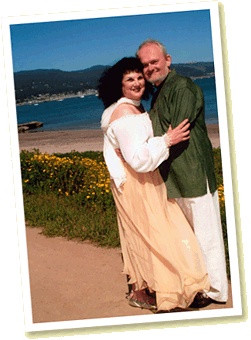 Since this is about brides and grooms, I thought I'd weigh in with a few thoughts about mine -- groom, that is.
I call Raymond "The Chairman of the Optimism Committee." He has the most loving, open outlook on life of almost anyone I've ever met. (And I've met a LOT of people.) The other day, he officiated at a wedding whose start was delayed by an hour and a half because the bride was having a hair crisis. He never batted an eye. He waited, patiently, reassuring the groom, until finally, the bride gave the go-ahead. He proceeded to conduct a ceremony so beautiful that everyone had tears in their eyes. Driving away, my positive thinker husband said, only, "Well, her hair did look very nice."
He's like this at home, in public, with friends, with my kids, with his beloved daughter. He is warm, funny, bright and serious. He tells a story about Sylvia's last days that touches me deeply. As he was caring for her, she said to him, "You'll never have to ask yourself if I should have, because you will have."
Both Rick and Sylvia, who, of course, never met, on their deathbeds made the same statement: "I want you to be happy," they each said to each of us, "I want you to find somebody else." At the time, that is the last thing you want to hear. But it turned out to be a gigantic gift from each of them. That Raymond and I found each other is our own personal miracle.
A marriage that begins with him carries a special blessing. The couples he marries all recognize that. And I, who share with him the joyful circle of marriage, give thanks for that every day.